This week I've been so busy compared to normal, not that I've really seen any friends but me, my mom and dad have been out almost everyday. Last friday we ventured all the way to Hereford in search of charity shops. It turned out to be a one-two hour drive, or at least it seemed that long. I took nathan with me too, he doesn't like shopping but I think he likes to see the smile on my face when I find something I like. Also recently he keeps wanting to spend money on me, I think he should spend it on himself, but he won't change his mind so I allowed him to buy me a bag of toffee from Thornton's.
This is a small selection of the things I have bought over the last month or so, I tried to include almost everything I bought from Hereford although some of it is still upstairs waiting to be washed. It looks like where I've edited the photo in photoshop that some of the items are slightly green, which isn't the case thats just my clumsyness with the brush tool.


The first blouse on the left I didn't actually get from Hereford, I got it from one of my local charity shops for a very good price, I had a bit of a field day because as I stepped into the shop I noticed there was one rail that was literally full of vintage blouses, so I just had to pick the best ones and get them all. I have since wanted to go back and get some more but unfortuantely I feel as if I've spent way too much money over the past few weeks and so im going to wait a bit until I get some more from ebay. Anyway, the blouse has a small stain on it which I didn't notice when I bought it but its not visible if I wear it with something highwaisted, and its such a pretty blouse and a nice colour I couldn't possibly throw it away. I wore it the other day infact with a highwaisted skirt, I took some photos and put them on lookbook!
http://lookbook.nu/look/921107-YOU-WONT-BE-AFRAID-OF-FEAR
I also made the skirt myself. I found the fabric at a place called The Mill in Wales, it sells loads of amazing fabrics at quite cheap prices, although, I paid a little more than I usually would for this fabric (1 1/2 meters for £4) If you can't quite see what fabric it is, its a gorgeous purple tie-die velvet, I didn't even know you could tie-die velvet but apparently you can and I'm so happy I made this skirt! Also, I made the skirt pattern! Remember the course I said I was going on to learn how to cut patterns? Well, it may of been canceled, but not before I was able to make this pattern! It fits me perfectly, so I'm really pleased at how it turned out!
The second blouse
is more like a jacket, although, its made from blouse like fabric, so its a bit confusing but I still really like it. This is one which I got from Hereford, I found all of these in one shop! It was the last shop I went into actually. I was feeling a bit sad up until that point because I had looked round countless charity shops and I couldn't find anything! I really love the pattern and the pocket detail on this blouse, its also cropped, which I think is kinda cool, although it makes me wonder what I should wear it with but I bet I'll find something…

I also really love this next blouse which I got from a local charity shop, I love the pattern, it reminds me of trebel clefs and since i play piano (or at least I used to) I like that little detail. I also love how it fits in with the nautical trend! The collar is also quite small, I like that, I'm not too fond of the normal size collars anymore I prefer to go for something more interesting where the coll
ar is a bit different.. Unless the shirt is interesting enough to pull off a basic shirt collar.
This is probably one of my favorite things which I purchased at Hereford, its very like the Urban Renewal dresses at Urban Outfitters, the ones with the lace across the top, but I like that this one is actually vintage rather than something that's just been made up in a vintage style. I am going to have to edit it a little on the sewing machine because I think it is a size 18 but I tried it on, its more like a size 14-16, probably because of the vintage sizing. But yeah, I love everything about this dress, the colour and the lace and its just perfect, I'm going to shorten it slightly and take in the waist and it will fit me perfectly !
This blouse reminds me of Abba, and I love Abba.
I love the pattern its really interesting. My mom says that its probably from the seventies because of the shape of the collar, I have to say that I agree with her. I like that its unusual, and as I said above its not like an average shirt collar, it makes it a bit more interesting, although the pattern alone is lovely.
The pattern on the white and blue shirt is so pretty, it makes me think of birds although its not actually birds. Again, I love the collar, its frilly, and I like that it has a tie. There is one thing I don't like, it has no buttons so that is why it has to be tied, when I tie it up it leaves a huge gap which allows for you to be able to put your head through the collar when you put it on, and it shows all my cleavage which I don't like but its pretty easy to clip it together with a brooch. I wore this the other day when I went shopping with my mom, I came back and took some photos for lookbook so here is my look.
http://lookbook.nu/look/935459-SO-I-SAY-THANK-YOU-FOR-THE-MUSIC

This blouse looks checkered here but its actually got a really nice blue and white dogtooth print, and down the sides there is a black strip. Why I didn't take a photo of these I don't know, but this blouse looks quite boring without them but I assure you its quite lovely, although I think it might be the one I like the least out of the collection I've acquired.
Finally, I seemed to of missed the middle one out, this is one of my favorites because of the colour and style; it reminds me of victorian style dresses and blouses, its really romantic. I love that it buttons up on the side rather than the middle and the frill is also really lovely and I like that it doesnt just end at the collar it continues down the front of the blouse. The only thing I don't like about this blouse is that its quite see though, but its not supposed to be, I defiantly wouldn't be able to wear a black bra with it.
I also wore this the other day, I did take a photo of the outfit but I didn't think it would be very good for lookbook, its more of an artsy kind of photo, I'll post it here anyway and you can tell me if you think I should upload it!

I've started using my old camera as well as my new one, Its just a 4 mega pixel digital kodak one. I've been really interested in photos which look really old recently although I don't have the money to persue it, I think the ones on flickr are done by film cameras and I don't have the money to constantly do that so I was very happy when I found that if my old camera had loads of dust on the lens i would get the same effect! This means I've actually started to use my flickr! http://www.flickr.com/photos/kaylahadlington/
The other day I went to Malvern to see a vintage and classic car show. I don't really like cars but I like old vintage ones, along with all other old vintage things. My dad however is obsessed with cars, he has worked in the car industry all his life and turns into a complete car nerd when surrounded by old MG's, Rovers and Landrovers and whatever other old British cars happened to be at this show.
I got quite excited when I saw all the mini's lined up in a row, unfortunately I don't have a good enough picture so here's a picture of the one on the end. I kept asking my mom if I could have one but she wont budge, she says there dangerous, which I suppose they are but seriously look at them, possibly the cutest cars on earth. Me and my friend ellie always walk past one on our way back from college everyday, I think its either navy and the roof has the union jack on it or its black a white roof, I can't quite remember, but one day me and ellie will go up to the house its parked at, knock on the door and buy it! Well, we wont, but we like to think we will, and in our dream of owning a mini we will share it, although, we're not quite sure how thats going to work out considering she lives around a 20-30 minute walk from my house.
I have to say though, me and my mom were far more interested in the Antiques Fair that was going on in the next field. We were even lucky enough to watch Paul Hayes and his film crew film 'Put Your Money Where Your Mouth Is' which is a program on the BBC where antiques experts buy antiques cheaply and compete against each other to make a profit. At this point my mom got all excited and wanted to go talk to him, so we followed him around for a while, then bought an icecream, sat down and watched them film the show. So you never know I might be on TV in the background haha. We thought after we got home we should of had our photos taken with him, but of course us clever ones didn't think of that at the time did we.
Earlier my mom went up the loft to put some things away and came back down with a box full of really old jewelry, my grandma said some of it belonged to my great nan, and the rest is just stuff we've collected from charity shops, so I thought I'd show you all.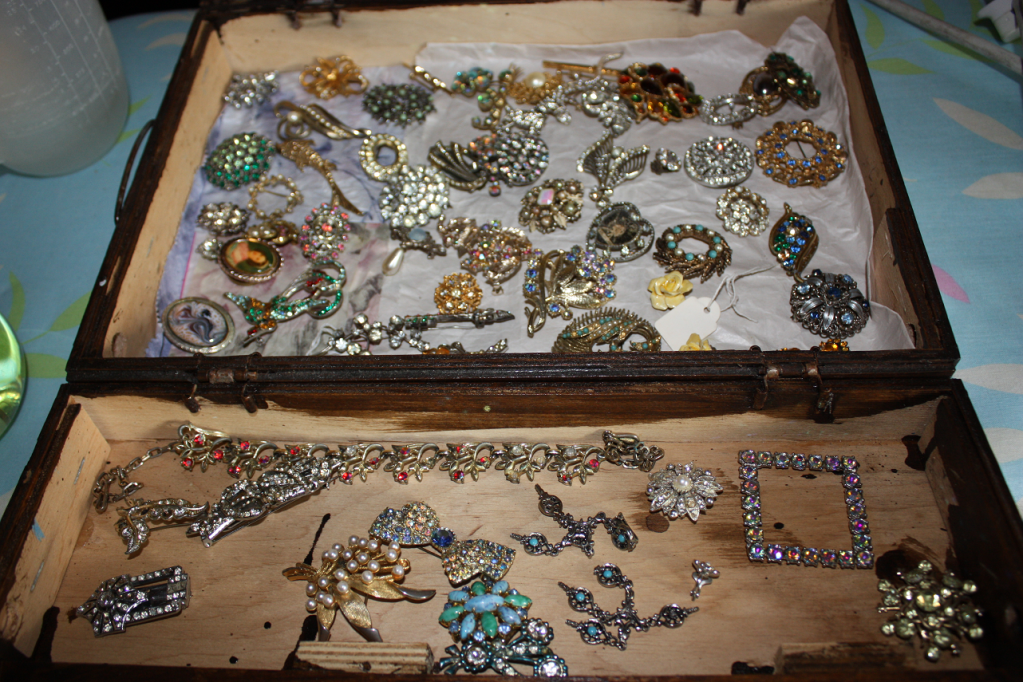 I've got no idea if there even worth anything but even if they aren't there all so pretty !
Finally I thought I might tell you what I'm doing today, well this photo is pretty self explanatory, I'm distressing jeans whilst drinking cups of tea, which I find is quite enjoyable. Tea makes the world go round.